CROWNS OF BABYLON ANNOUNCE NEW SHOW IN BLUESIANA; LISTEN TO A NEW SONG : "SKINNY SUNNY BOY" ON ALL PLATFORMS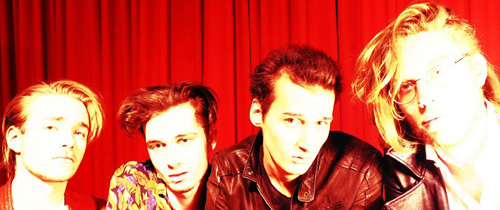 Österreichs alternativ-rocker Crowns Of Babylon zeigen ihr neues material in einer komplett neuen Live-Show. Gestartet wird mit der ersten Show im Künstlerhaus (16.Juni) im Rahmen der Veranstaltung "Einigmarktig". Gefolgt von einer Show im alteingesessnen Bluesiana am 30.Juni.
Ihre neueste Single ist schon überall erhältlich. Den groove Track "Skinny Sunny Boy" gibt es hier zu hören (LINK)
Im laufe der nächsten Wochen werden auch zwei weitere Songs erscheinen. "Moving On" und "It reminds me of the Future" werden beide noch im Juni released.
Crowns of Babylon ist 2016 entstanden. Mit ihrem ersten Release der Blu Blu Sky EP (2017), ihren neuen Songs und einer scharfen Live-Show wollen Crowns of Babylon 2018 wirklich durchstarten.
Austria`s alternative-rockers Crowns Of Babylon are about to play their material in a brand new live-show for the first time. They'll kick things off with a release show on June 16th followed by a show in the classic south-austrian Rock Club Bluesiana on the 30th of June.
In addition, their newest single is currently streaming everywhere. The raging track "Skinny Sunny Boy". Take a listen at this location (link to song).
Also look forward to their new upcoming singles : "Moving On" And "It reminds me of the Future" (all out in June 2018 on all Platforms).
Crowns of Babylon came to life in 2016, drawing from the members' shared love for all different genres of music. With their first release in 2017 and the new upcoming sharp material and live-shows, Crowns of Babylon is looking to become on of the bigger names in the European alternative scene.
Tickets:
Vorverkauf: 10,-
Abendkasse: 15,-
KelagPlus Club: 10,-
Studenten: 10,-