PETER KARP BAND (USA)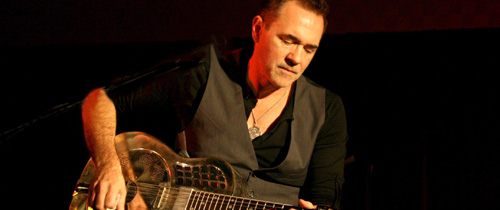 Großartiger Blues Rock, das hat er bei seinem letzten Konzert unter Beweis gestellt.
Sollte man nicht versäumen!
"PETER KARP IS A STAR. From his muscular slide guitar soloing to his observational and oh-so-true songwriting and, most of all, that soulful expressive voice of his, dripping with innuendo. Dude's entertaining as hell."
– GOLDMINE MAGAZINE
Songwriter – Guitarist – Sänger – Pianist – Bandleader. Wieder einmal stellt Peter Karp ein eindrucksvolles musikalisches Talent unter Beweis. The Blue Flame ist das 9. seiner Alben, veröffentlicht als 3. Album bei Rose Cottage Records. Seine dem Americana und Blues zugeordnete Musik nennt er selbst "Soul-Influenced Americana- Blues Rock". Das Album besticht durch Karps herrlich rauhe Stimme und meisterhafter Beherrschung von Gitarre und Piano. Über all diesen Fähigkeiten steht sein beseeltes und exzellentes, von seinen Kritikern bejubeltes Songwriting. Dieses Talent wird unterstrichen, dank der Begleitung einer Gruppe von Mitmusikern, die es auf professionelle Art verstehen seine Musik und Live-Shows auf großartige Weise zu stützen und ihn zu einem der gefragtesten Live-Künstler seines Landes zu machen.
Tickets
Vorverkauf: 27,-
Abendkasse: 32,-
KelagPlus Club: 24,-
Studenten: 20,-